Congratulations on your future baby!
***Update: Covid-19 and prenatal visits- by Telehealth ***
In order to provide prenatal care during this time:
we can schedule a one-on-one telemedicine prenatal visit, please call us for details.
we hold a monthly group prenatal session on zoom. Please call us to sign up.


Prenatal information pre- Coronavirus, all changes are as noted above: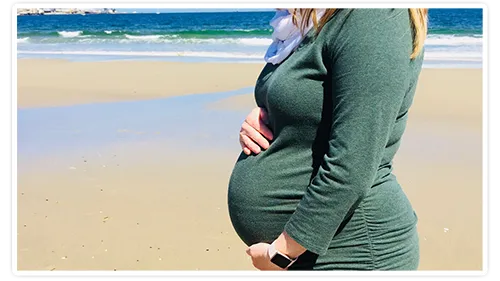 If you would like to meet with us or check out the office prior to the arrival of your baby, you have two options! Kiwi Pediatrics is now offering free monthly group prenatal visits for perspective families. If you prefer a more intimate setting, you can also schedule a prenatal visit with one of the providers. Whichever option you chose, please call our office to schedule your group prenatal or one-on-one prenatal visit. Please see here to learn more about our providers.

Group visits- are continuing monthly by Zoom. Due to Covid - we have temporarily suspended in person sessions. Meetings are as follows:

On the First Tuesdays of the following months at 5:30 pm : January, March, May, July, September, November.

On the First Wednesdays of the following months at 6pm : February, April, June, August, October, December. NOTE August 2022 session moved to 8/10/22 at 6pm - call or text the Kiwi number to sign up.

Please call or text us beforehand to add your name to the group visit of your choice:

---
Safety First

Car Seat: Get a car seat and use it on every ride. Check out both the infant-only and the convertible infant/toddler varieties. Install your baby's car seat before the first ride. We recommend that you get the installation checked at a certified center 866-SEAT-CHECK (732-8243) or www.seatcheck.org can direct you to a nearby inspection facility).
Smoke and Carbon Monoxide Alarms: Make sure your apartment or house is adequately equipped with working smoke and carbon monoxide detectors.
Firearms: Remove guns from the home or lock them up unloaded and separate from the ammunition.
Vaccinations: Parents should get Tdap and Influenza (in flu season) vaccines to prevent spreading whooping cough (pertussis) and influenza to newborns.
Decisions, Decisions
Birthplace: Hospital, birth center, or home (with a backup hospital).


Pediatrician: Thank you for your consideration!


Feeding: Breast or formula or both. PLEASE breastfeed if you can; it's really best for babies (and Moms). Experts recommend only breastmilk until the breastfeeding is going smoothly.


Diapers: Cloth and/or disposables.


Circumcision: (boys only).


Who's going to help in those first few weeks?
What We Do
Newborn hospital delivery visits: For infant deliveries at Alta Bates Hospital, Berkeley, we will see your new baby at the hospital sometime during the first day of life and again prior to discharge.

Home Births: We will do home visits on babies born at home if we can. We require a prenatal visit at Kiwi before delivery and will want to obtain prenatal information from your midwife. Please read here for our office policies on home births. Please call us for a prenatal visit, if you are planning a homebirth. After baby is born, please leave a message at (510) 652-1743 as soon as your baby is born.

For all newborns we recommend the following state-required procedures for your baby:

A Vitamin K injection to prevent bleeding problems, which are potentially fatal. We, at Kiwi, consider this mandatory.


Erythromycin antibiotic ointment for the eyes to prevent gonorrhea and chlamydia eye infections.


The Hepatitis B vaccination.


The Newborn Screen, a heel-poke blood test for multiple rare diseases that can cause severe mental retardation or life threatening metabolic crises which are preventable if caught early on this screening test. It also checks for Sickle Cell and other abnormal hemoglobins and Cystic Fibrosis.


Hearing Screening to identify hearing problems as early as possible.
Well Care: At these visits we discuss the general care and development of your child. We examine, immunize, and do age-appropriate screening tests on your child. Please bring along your list of questions to these visits so we can address any concerns you may have.
Well Care Schedule: 3-5 days of age, 1-2 weeks, 2, 4, 6, 9, 12, 15, 18, and 24 months and every 6-12 months thereafter. It is always best to check with your child's health insurance carrier with regards to how and when preventative services are covered.
Illness Care: We can fit sick children into the schedule urgently the same day or within the next few days, as the situation requires. If your child's usual practitioner is unavailable, you will be offered an appointment with another Kiwi provider who has space for these visits.
Office Hours
Alcatraz Ave.: Mon-Fri: 10-12, 2-5


San Pablo Ave.: Mon-Fri: 9-12, 2-5

Appointments
Please allow 1-4 weeks to schedule well visits. Call as early in the day as possible to arrange sick visits.
After Hours Advice and Appointments:

For after hours advice 24/7 (when we are closed), we are affiliated with the Pediatric After Hours Clinic which has a pediatric advice nurse and an after hours pediatric clinic with locations in Berkeley and San Francisco. They provide pediatric urgent care by appointment on evenings and weekends, 7 days a week, including all holidays.
For leaving messages or if you are unable to reach our after hours advice line, please call 510.652.1720 for after-hours contact instructions. Please do not call after hours for medication refills.
Emergencies: A pediatrician is available 24 hours daily for emergencies. We share emergency call with a select group of pediatricians working in the community.
In the event of a life-threatening emergency, call 911 and request to go to Children's Hospital (unless it's too far, then use the closest hospital). The hospital staff can then call the on-call doctor.
Hospital Privileges
Alta Bates–Summit Medical Center, Ashby Campus and UCSF Benioff Children's Hospital-Oakland

Contacting Us
You may call for any questions; early, brief advice can prevent unnecessary anxiety and problems. Please be clear as to how urgently you need a response, and how long you'll be at your phone. Non-urgent calls are returned at the end of the day. Please limit calls to 5 minutes; longer discussions are better handled in the office. You may also e-mail non-urgent questions to the provider of your choice. We try to check e-mail daily, but it may take 2-3 days to get a response. Faxing questions also works well.

Fees
Please pay at the time of service.
We only direct bill insurance companies that have contracts with us (HMOs, PPOs). Such companies usually list our providers on their website. They do require that we collect your co-payment at the time of service. We accept cash, checks and credit or debit cards. Please bring your child's insurance card to every visit. We are happy to provide completed insurance claim forms as needed. It is extremely important that you add your new baby to your insurance as soon as possible.
If your income is limited (even temporarily), your baby and older children may be eligible for free well child check-ups through the CHDP program. We may also be able to help you apply for Medi-Cal or Healthy Families. Ask us for details.
There is a fee for missed appointments that are not cancelled 24 hours in advance.

Fee schedule available upon request.

Vaccine Information
Please visit our vaccine page for more information on our vaccine policy and helpful web resources.

Get Connected

Check out the Text4Baby program! The free app provides critical health and safety information through text messages, and interactive features, including: how your baby is growing each week, your progress and medical updates and fun quizzes.